DIPLOMA CERTIFICATE ATTESTATION
How to get Diploma certificate attestation for Dubai.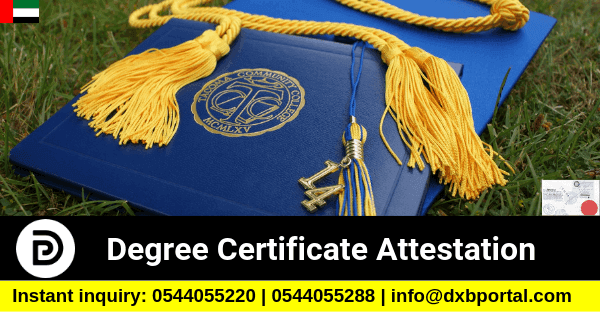 Diploma certificate and any other any higher educational certificates are very important to get a professional employment visa in Dubai. Diploma certificate or any other educational certificate will be acceptable in Dubai, only if the certificate is authenticated by attestation or apostille.
Diploma certificate attestation is a step by step procedure. First need to Notary Public attestation in your diploma certificate from the certificate issued country. Then need to verify from Home department and Ministry. Then UAE embassy must attest a stamp and signature from your home country. Final step is attention from UAE Ministry of Foreign Affairs.
In order to Legalize a certificate in other country we must follow this attestation or apostille procedure. Legalization process can be hard to get it done on time for an individual. Because the process and method may vary documents to documents and one country to another.
With DXBportal attestation Service, you will be able to get your Diploma certificate attestation from any country. We are currently doing Attestation services for 86 countries. our dedicated team will handle your certificate attestation and legalization process in order to get it done very easily.
Normal Procedure for Diploma certificate attestation for UAE

Step by Step Diploma Attestation procedure with DXBportal.
Step One  : Contact us and explain your requirements
Step Two  : Send a scanned copy of your certificate
Step Three: Diploma certificate screening by our expert
Step Four : We will send you an email with detailed attestation procedure, cost and 

processing time.

Step Five : Processing confirmation
Step Six   : Documents collection (Free Pickup is available)
Step Seven: Diploma certificate registration in our system
Step Eight : Attestation Process [Normal procedure for Diploma attestation is mentioned above]
Step Nine  : you will be receiving notification on attestation status
Step Ten   : Releasing attested Diploma certificate to the Customer and Payment
To know more details instantly, contact us, we are happy to assist you.